Apple iPhone 11 64GB Black MWLT2CN/A
✓ Stav zariadenia: Nové
✓ Záruka: 24 mesiacov
✓ Odblokované na všetky siete
✓ Originálne balenie
✓ Originálne príslušenstvo

✓

Obsahuje: telefón, kábel, adaptér, slúchadla, manuál
| | |
| --- | --- |
| Značka | Apple |
| Model | 11 |
| Typ Displeja | Liquid Retina HD LCD |
| Uhlopriečka | 6.1" |
| Pamäť | 64GB |
| Farba | Black |
VŠETKO ČO POTREBUJEŠ
Nový systém dvoch kamier zachytáva viac toho, čo ťa zaujíma a baví.
S najrýchlejším čipom v histórii smartfónov a batériou s celodennou výdržou toho zvládneš viac a nemusíš tak často nabíjať.
A to najkvalitnejšie video zo smartfónu, uchová tvoje tvoje spomienky krajšie než kedykoľvek predtým.
FOTKY, KTORÉ OSLNIA
Úplne nový systém dvoch kamier. Prejdi od širokouhlých fotiek k ultraširokouhlým.
Vynovené rozhranie ti pomocou nového ultraširokouhlého objektívu ukáže, čo je za hranicami záberu, a umožní ti to nasnímať.
Natáčaj a upravuj videá rovnako jednoducho ako fotky. Je to tá najobľúbenejšia kamera na svete, teraz s úplne novou perspektívou.
NAJKVALITNEJŠIE VIDEO NA SMARTFONÓNE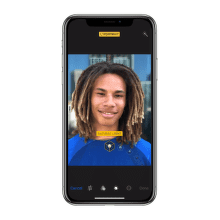 Natáčaj a upravuj najkvalitnejšie video na smartfóne.
iPhone 11 nahráva perfektne zaostrené 4K video pri 60 snímkach za sekundu všetkými svojimi kamerami.
Ultraširokouhlý objektív zachytí štyrikrát širšiu scenériu, takže je dokonalý na akčné zábery.
Napríklad ako tvoj pes chytá frisbee. Ak nahrávaš klavírne vystúpenie svojho dieťaťa, tak si zoomom priblížiš nielen obraz ale aj zvuk.
A videá teraz môžeš upravovať rovnako jednoducho ako fotky.
NOČNÝ REŽIM
Od tlmene osvetlených reštaurácií po pláže zaliate mesačným svitom.
Nový nočný režim využíva inteligentný softvér a čip A13 Bionic na snímanie takých krásnych záberov, aké s iPhonom nikdy predtým neboli možné.
A všetko sa to deje automaticky. Navyše môžeš experimentovať s manuálnym ovládaním, aby si zvýraznil detaily alebo potlačil šum.
ČIP, KTORÝ JE ÚPLNE PRO
iPhone 11 a iPhone 11 Pro majú najrýchlejší čip zo všetkých smartfónov.
A13 Bionic je taký výkonný, že všetko, prebieha rýchlo a plynulo.
A pritom maximálne šetrí batériu, aby ti vydržala dlhšie.
A13 Bionic je taký vyspelý, že má pred ostatnými čipmi niekoľkoročný náskok.
6 VÝNIMOČÝCH FARIEB
Vybrať si môžete zo šiestich nápaditých farebných variant a to: Green, Purple, White, Black, Yellow alebo Red, ktorá je zo série (PRODUCT)RED.
K dispozícii budú tri pamäťové varianty 64 GB, 128 GB a pre najnáročnejších tu bude 256 GB kapacita.